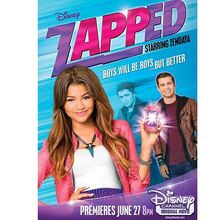 Zapped, formerly known as Unleashed, is a Disney Channel Original Movie, based on the tween fiction novel, Boys Are Dogs. The movie began production in early August 2013. Zendaya portrays the lead role, Zoey Stevens. The movie will premiere on June 27, 2014, before the huge premier of the Disney Channel show, Boy Meets World. The first teaser premiered on March 24, 2014 on Disney Channel's Youtube Channel. Zendaya and Spencer will be doing a live chat on Twitter during the premiere. Too Much is a promotional single for the movie.
The following, is Zendaya's insite about the movie in an interview with Black Celeb Kids:
Q: Can you tell us about the upcoming DCOM movie Zapped?
A: It's a very sweet movie and it was done really well. We wanted to kick it up a step and do more, I guess you would call it 'real acting'. We didn't want to be super cheesy. We wanted it to be real. The plot sounds weird and it's a little fantasy, but the way we did it was very real. The plot presents a common situation in an uncommon way. The lead character, her mom remarries. She has to move in with a new family. They are all boys and she doesn't get along with ay of them. This is something that happens to a lot of kids. A lot of kids have step-brothers and sisters that they have to learn to adjust to. Sometimes it doesn't work in the beginning and it takes them awhile to adjust. It's a heightened. elevated plot.
Starring
Spencer Boldman as Jackson Kale,
Chanelle Peloso as Rachel Todds
Emilia McCarthy as Taylor Dean
Adam DiMarco as Adam Thompson.
Movie Summary
16 year-old Zoey Stevens, a skilled dancer and straight-A student who is having a hard time adjusting to a new high school, a new and klutzy dance squad, a new step-dad, three new rowdy step-brothers and an unruly dog. But things change when a dog training app on her smart phone begins to somehow control all the boys around her.
Book Summary (of Boys Are Dogs)
Middle-school boys act like wild animals.
That's what Annabelle discovers on her first day in her brand-new life. Birchwood Middle School is totally different from her old all-girls elementary. In fact, lots of things in Annabelle's life are totally different now that she's back from summer camp. There's mom's new boyfriend, a new house, new friends—even a new puppy that likes to chew on Annabelle's clothes. Well, at least the puppy comes with a leash and a training manual! If only she could say the same for the boys . . .
Featuring Annabelle's hilarious take on friendship, boys, and her all-new life, this novel / survival guide perfectly captures the joy—and agony—of junior high school. And it might just teach you how to tame the wildest beast of all, the teenage boy.