Smile

Song

by
Zendaya
Album:
My All - EP

Released:

January 12, 2012

Genre(s):

R/B, Motown

Length:

1:34

Credentials
Writer(s):
Charlie Chaplin (music)

John Turner, Geoffrey Parsons (lyrics)

Producer(s):

David Foster Michael Jackson
Smile is a 90s song covered by Zendaya. She uploaded a a capella snippet of the song on her YouTube channel on January 12, 2012. The song was originally music composed by Charlie Chaplin. When lyrics were then added to the song, Nat "King" Cole perfomed it. A cover of the song was performed by Michael Jackson, Zendaya's male role model, and it is her favorite song performed by him. The message of the song is similar to Z's motto, "Don't Forget to Smile". She also sang the song in Teen Music Fests that she hosted. (See Charity Work).
Lyrics
Smile, though your heart, is aching
Smile, even though, it's breaking
When there are clouds in the sky
You'll get by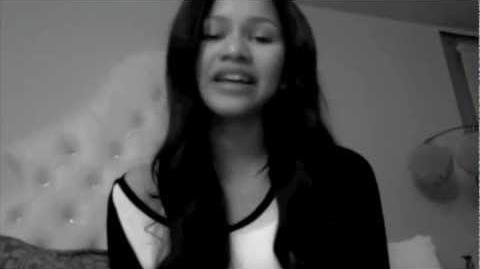 If you smile, through your pain and sorrow
Smile, and maybe tommorrow
You'll see the sun come shining through
For you
Light,
Up your face with gladness
Hide,
Every trace of sadness

Although a tear,
Maybe ever so near,
That's the time,
You must keep on trying
Smile, what's the use in crying?
You'll find that life,
Is still worthwhile,
If you just smile
Ad blocker interference detected!
Wikia is a free-to-use site that makes money from advertising. We have a modified experience for viewers using ad blockers

Wikia is not accessible if you've made further modifications. Remove the custom ad blocker rule(s) and the page will load as expected.