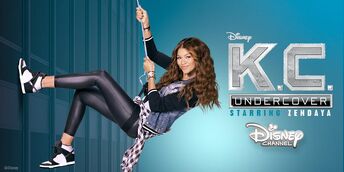 K.C. Undercover (working title Super Awesome Katy) is an American comedy sitcom originated by Disney Channel. It stars Zendaya as the titular character, K.C. Cooper. On May 15, 2015, Disney Channel renewed the series for a second season. The second season premiered on March 6th, 2016.
Plot
K.C. Cooper, a high school math whiz who's training to be an undercover super spy, following in the footsteps of her parents. Each episode finds the Coopers balancing typical family issues while performing undercover missions to protect the country.
Cast
Main Cast
Zendaya as K.C. Cooper
Kadeem Hardison as Craig Cooper
Tammy Townsend as Kira Cooper
Kamil McFadden as Ernie Cooper
Veronica Dunne as Marisa
Notes and references
Ad blocker interference detected!
Wikia is a free-to-use site that makes money from advertising. We have a modified experience for viewers using ad blockers

Wikia is not accessible if you've made further modifications. Remove the custom ad blocker rule(s) and the page will load as expected.